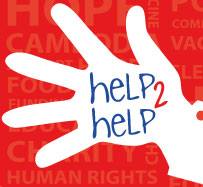 An integral part of the Sporties Supports program is an incentive based points initiative, run twice a year, acknowledging those who commit whole heartedly to the program.
The initiative culminates with the highest point scorer offered the opportunity to spend a week volunteering for the 'Help 2 Help' charity in rural Cambodia with their efforts in breaking the poverty cycle, with volunteers distributing clothing, food packs, school supplies and engaging with the local District of Chikkreng communities.
Since becoming a supporting partner, Sporties has sent 10 team members to volunteer for the charity, exposing them to life changing experiences which shape their personal development, and their journeys as potential future leaders of our community. In late 2015, the Sporties Supports team were in attendance for the opening of the first Help 2 Help educational facility, with Sporties honoured with naming rights to a unit, the 'Sporties School of Housekeeping', in recognition of our continue support to the cause.
The Sporties School of Housekeeping is a training facility where Cambodian students learn the basics of housekeeping and hotel maintenance, acquiring life skills to enhance their employment prospects thus breaking the cycle of poverty.
For those Sporties Supports volunteers who witnessed the opening of the school and spoke to the new students themselves, it was an irreplaceable opportunity long remembered.