RESPONSIBLE SERVICE OF ALCOHOL
Moorebank Sports Club promotes a policy of Responsible Service of Alcohol. The Club recognises its obligation to not serve patrons to intoxication, not to serve intoxicated patrons and not to serve or supply alcohol to minors (persons under the age of eighteen years).
The following policies have been adopted to ensure the Responsible Service of Alcohol.
A range of drinks are offered on the Club's premises. These include a range of low alcohol cocktails and other non-alcoholic beverages.
The Club seeks to create an environment to discourage drunken, disruptive or violent behaviour.
The Club does not seek to encourage rapid or excessive consumption of alcohol.
Staff are acquainted with this house policy (Employee handbook) and trained to implement it.
Staff involved in the sale and/or supply or alcohol have completed and passed an LAB approved RSA course.
If a patron appears to be reaching an intoxicated state and continues to order alcoholic beverages, alternatives to alcohol will be offered.
The Club offers a number of services to eliminate patrons drinking and driving, including a courtesy bus service.
The Club only supports responsible liquor promotions.
Liquor Act 2007
No Alcohol can be sold or supplied to anyone under 18. It's against the law.
REFUSAL OF SERVICE
Alcohol will not be served to a patron identified as intoxicated. A patron identified as intoxicated will be requested to vacate the premises immediately.
UNDERAGE PATRONS
Staff are required to remain vigilant in order to detect minors seeking to enter the premises unaccompanied by a responsible adult or attempting to obtain alcohol.
If a staff member believes a patron ordering or being supplied alcohol is under the age of 18 years, appropriate identification of proof of age (passport, photo proof of age card or drivers licence) will be requested.
Anyone who appears to be under the age of 25 years must also be checked for appropriate identification of proof of age.
If the patron cannot or refuses to produce identification the patron will be asked to immediately vacate the premises.
By working together we can create a safe, enjoyable and friendly atmosphere for all.
RESPONSIBLE CONDUCT OF GAMING
In partnering the Community, Moorebank Sports Club promotes the Responsible Conduct of Gaming.
For the vast majority of patrons, gaming is an entertaining and enjoyable pastime however like all things, it should be enjoyed in moderation.
Moorebank Sports Club is a member of the ClubSafe Responsible Conduct of Gaming Program developed by ClubsNSW. The Club practices the following measures to ensure that we offer patrons a responsible service of gaming:
Staff training that promotes the responsible conduct of gaming. All staff are accredited with Responsible Conduct of Gaming certificates approved by the Liquor Administration Board.
Education of patrons throughout the Club so that they may seek help if they feel that gambling is becoming a problem.
Provision of proactive assistance through exclusion schemes and education programs.
Observing and practising Duty of Care through Club premises.
Ongoing monitoring of all the foregoing by Management.
We are committed to the Responsible Conduct of Gambling at Moorebank Sports Club and advise all patrons to bet within their limits. In doing so, we hope that they enjoy gaming as an enjoyable recreation.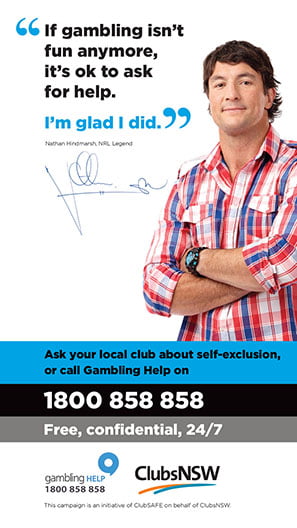 Think! About your choices. Call Gambling Help 1800 858 858. gamblinghelp.nsw.gov.au
Is gambling a problem for you? G-Line is a confidential anonymous and free counselling service.
Free call 1800 633 635.