WESTERN SYDNEY AWARDS FOR BUSINESS EXCELLENCE – 2016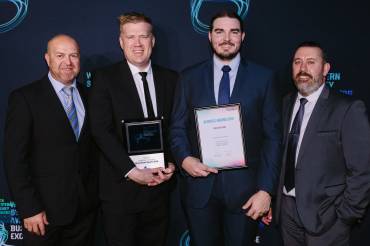 Moorebank Sports Club won the Employer of Choice award at the 26th Annual Western Sydney Awards for Business Excellence last week.
Better known as Sporties, the club was rewarded for its commitment to best practice human resources management that has led to increased profitability and marked decreases in absenteeism and employee turnover.
"Success in this category brings validly to our practices in the workplace", Sporties HR Manager Ben McGuinness said.
"We believe that rewarding, encouraging and engaging staff is beneficial not only to the team member, but also to club.
"Receiving this award provides a tangible reinforcement that we are moving in the right direction and is a testament to the dedication, vision and commitment of our board and team members."
Sporties, who plan to expand to Gregory Hills in the future, now proceed as finalists to the NSW Business Chamber State Awards.
Winners achievements were honoured across 16 categories at a gala awards ceremony at Sydney Olympic Park's WaterView Bicentennial Park.
With almost 500 guests in attendance, it was an exceptional night of celebrating success stories of the western Sydney business community.
The master of Ceremonies, Ricardo Goncalves, of SBS World News, kicked off the evening with a brilliant start with prize giveaways followed by a great overview of western Sydney as a key business hub and a positive economic overview of the region by NSW Treasurer Gladys Berejiklian.
Leader of the Opposition and Shadow Minister for western Sydney Luke Foley shared his insights of small business and the importance of innovation before winners were announced for the first round of awards.